Personalized Gifts for Knitters and Crafters
Lucinda Winston
Personalized Labels for Handmade Items
Buying a thoughtful gift for someone does not always need to happen at a particular time of year!
Personalized, meaningful gifts are always perfect for that cherished person in your life who can warm your heart – be they a family member, a good neighbor, or a close friend. Those individuals may deserve a "thank you treat" at any time of year; for emotional support, a favor done, or just for being there.
For people who are knitters, or who crochet, quilt or sew, a unique personalized fabric label to attach to their handmade items, is a charming and thoughtful gift, and won't "break the bank".  As a friend, you can consider someone's favorite colors, someone's skill, or someone's faith, and put it all together on a beautiful unique label so that they (or any recipient) will be reminded of this special person.
For family and friends who knit, crochet, or sew, personalized woven sewing labels are a wonderful and traditional addition to any item: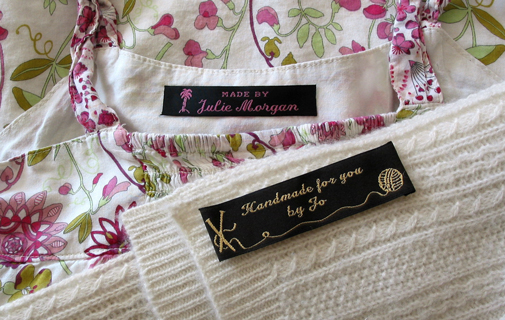 For family and friends who are crafters and make handmade items with smooth fabrics, an easy-to-apply iron-on label might be ideal.  These can either be iron-on woven labels, or iron-on printed fabric labels – both can be made with personal and sentimental text.
The best gift is one given with thought and love, and personalized woven labels will not only be received with joy, but will take their place on handmade items which are made with the same.