Personalized Holiday Gift Ideas
Lucinda Winston
With the holidays just right around the corner, you might be trying to think of ways to add your own personalized touches to holiday gifts. There are several different gift ideas to consider this year, rather than store bought items.
Hand-Knitted Items – Keep your friends and relatives warm through the winter by knitting sweaters, gloves, scarves, and hats. Finish the item by hand-stitching on a custom woven label with their name.
Hand-Made Clothing – Dust off your sewing machine and make a trip to your local fabrics and patterns shop. The quality of hand-made clothing is superior to store bought items and shows your friends and relative how much you care. You can even attach personalized clothing labels for that extra special touch.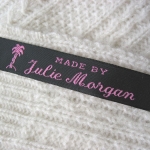 Canned Jams and Jellies – Make your own preserves in a variety of fruit flavors. Order personalized stick on labels to apply to the exterior of each jar.
Cookie Mix in a Jar – Fill jars with all of the dry ingredients to make your favorite cookie recipes. Print the recipe and attach it, along with a personalized gift label, on the exterior of the jar.
Homemade Potpourri – Make your own potpourri and put it in little cloth bags or jars. One possible combination is to use dried cloves, star anise, apples, oranges, and broken up cinnamon sticks. The potpourri lasts a few months in its original container and can be added to boiling water for a single time use. Finish bags or jars with custom printed labels that include the name of the scent.
Homemade Teas – Making teas at home is not difficult. All you need is your favorite dried herbs and dried spices. Feel free to experiment with different flavor combinations by mixing small amounts of dried herbs and spices into a glass bowl. Place one teaspoon of the mixture in a tea infuser, place in a cup, and add bowling water. Steep until the desired flavor is achieved.
If you do opt for store bought items, you can still personalize your gift by creating customized name labels and securing these to your wrapped holiday gifts. To order your personalized labels in time for the holidays, call It's Mine! Labels now at 1-866-695-2235.