Why choose handmade?
Lucinda Winston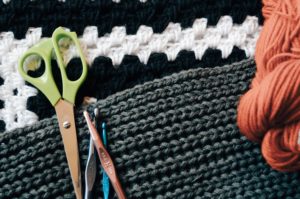 The crafting niche is thriving, and crafty artists are capitalizing on their skills more than ever. With the internet packed with a flourishing industry of handmade marketplaces, more people are embracing goods made by hand. By purchasing handmade goods either online or from local shops, you have instant and easy access the skills of artisans in your community and around the world.
Artists or crafters are able to choose the best quality materials and are not forced to cut costs using synthetics as may be used by mass producers of similar items. Purchasing from local artists, or even making items yourself, makes a positive impact while reducing the  environmental effects that mass production of consumer goods has on our planet.
Creating items out of unconventional materials gives new purpose to items that may have otherwise been thrown away. For example, Unshattered works with women in residential recovery programs to help them develop skills, find their strengths, and prepare for the future by creating gorgeous bags and accessories that are handcrafted in New York's Hudson Valley from repurposed materials.
When searching for clothing, decor, or a gift, the quality of the product is what you pay for. Handcrafted products generally have a much higher level of quality due to the fact that the crafter pays more attention to detail. Handmade items are more valuable and likely to last longer, plus they can be customized to meet your wants and needs.
When purchasing handmade goods, you're receiving an item that is unique compared with others in the large consumer and even niche marketplaces. Since all items are made by individuals who source their own materials, each item is always slightly different.
Better for the economy and job market
Studies have shown that shifting even as little as 10 percent of consumer spending to locally owned businesses would create hundreds of new jobs and millions of dollars in local wages. A study from Etsy revealed that small businesses selling on the platform contribute $5.3 billion to the US economy. Also, Etsy sellers produce more than one and a half million jobs for themselves and others.
According to Forbes, 87% of consumers feel that businesses should place at least as much weight on society's interests as they do on business interests. Supporting local artisans and their eco-conscious business practices certainly ticks that box. Handmade pieces may cost more than mass produced goods or take longer to arrive, but when you spend money with a small, local business, you can feel good about your purchase.
If you are making items to contribute to the handmade market, make sure your branding is clear and present so your items don't get lost in the fray. When you have finished your item, you can add a personalized fabric label to give it a professional look. You can customize your own woven labels here! You can also label your supply organizer, such as bins and drawers, to make your crafting process simpler and more streamlined using helpful stick-on name labels.