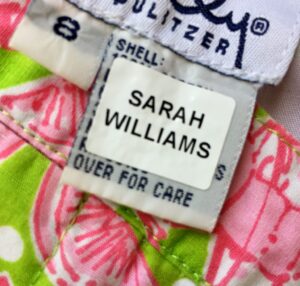 Standard Stick-On Clothing Labels
IMPORTANT NOTE – OUT OF STOCK!
This product is temporarily OUT OF STOCK. Please take a look at our FUN STICK-ON CLOTHING LABELS which can also be printed in black on a white background.
These durable stick on labels for clothes are designed to be pressed onto the satin care labels found inside most clothes. A quick and easy solution for the person who wants to avoid sewing or ironing! Black text on a white background makes for easy reading. Laundry-safe. The labels measure 3/4″ x 9/16″.
Product Information
Labels stick onto the satin (or similarly smooth) care tags
Durable—will stay on in the washer and dryer
Thin and smooth
Available with 1, 2 or 3 lines of text
Up to 12 characters per line—including spaces
Labels for clothing are perfect for:
Children's clothes—school, daycare, and camp
Nursing home or assisted living clothing and linens
Bed and bath linens
Size
3/4″ x 9/16″
Price
40 = $13.50
60 = $18.50
80 = $22.50
100 = $25.50
Delivery Times
Product is shipped approximately 1 – 2 days from the time of order. Click here to view all delivery times.