Custom Labels for Clothing
With clothing labels, there's no such thing as one-size-fits-all. Whether garments are store-bought or handmade, we believe labels and tags for clothing should be as personalized and unique as the people making and wearing them. That's why we offer custom clothing labels in a number of different styles, all made with painstaking attention to detail.
No matter what type of custom clothing labels you're looking to create, reliable communication with the label maker is essential. You need to be able to accurately convey what you need and then be able to expect that your custom labels for clothing will be made to order and live up to your expectations. With It's Mine Labels, you can trust that you'll get custom-made labels and tags for clothing that are beautiful, durable, and legible.
Whether you're in search of name labels for kids' clothes or custom labels for handmade items you plan to sell, we're sure you'll find the perfect fit in our online inventory. We offer all of the following varieties of custom labels for clothing:
---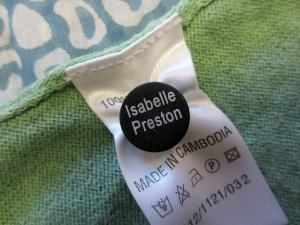 No ironing and no sewing! The Snappy Tag system, an innovative product from Europe, applies personalized garment tags to clothes and linens in seconds. Available in black or white.
---
Our custom woven fabric labels are especially appealing for the wearer, crafter, or small business because they make a charming statement about the special quality of the clothes, handmade items, and other products. We have lots of styles and colors to choose from! Preview before buying!
---
Whether for children, seniors, crafters, or for small businesses, we have a terrific selection of easy-to-apply, iron on clothing labels for your needs. These custom tags for clothing are also ideal for linens and handmade items. Our iron-on custom clothing labels are available in printed, woven, or tagless styles.
---
Stick-on waterproof custom labels are perfect for keeping track of all  personal belongings with a smooth surface. For personalized labels for children's clothes or clothing tags for nursing homes, we have stick on clothing labels to make your life even easier! We have lots of options to choose from!
---
Our personalized Bag Tags are an attractive and easy way to keep track of valuable backpacks, sports bags, instrument cases, laundry bags, etc. They're great for using on luggage, too!
---
Our durable, nylon drawstring Drawstring Bags, personalized with a name, are a great way to keep all types of personal belongings from going astray. Ideal for keeping little ones winter accessories together at daycare, keeping your pet's items in one place, for camping, and more!
---
Each of our four Value Packs contains a useful combination of products to help families. They include custom labels for clothing, bed and bath linens, stick-on name labels for hard surfaces, and more. These packages are ideal if you need to create custom clothing labels for camp, school, daycare, nursing homes, etc.
---
Although we love our amazing selection of personalized clothing tags, we realize that sometimes a dependable laundry marker is a useful option to have on hand! Washer and dryer proof, customize your own text on our best-selling iron on labels!
---
Maybe you're looking for a label as a permanent part of a clothing item. Maybe you're looking for a removable clothing tag. If you already know what you're looking for, we're ready to deliver a high-quality product and service. We can also help refine your initial vision and goals and channel them into amazing and easy-to-read custom clothing labels and tags.
Check out our sewing labels, our snap-on tags, iron-on labels, stick-on labels, bag tags, and more. Whether you're interested in personalized name labels for your family or visually effective clothing tags for your store or brand, our custom labels for clothing are a great fit for your needs. Shop here for all your custom label needs, and don't hesitate to contact us if you have any questions or need assistance!