How to Apply Sewing Labels
Lucinda Winston
Sewing labels are one of the most popular items to use to identify clothing, accessories and more.  These are some of the main advantages of choosing a sew on label:
FOR CRAFTERS:
Sew on labels are perfect for knitted and crocheted items, quilts, and other handmade items.
Sewing labels are traditionally woven and give a traditional and professional finish to clothing and accessories.
With a choice of lettering and background colors, fonts, and designs, labels can be custom designed to suit the customer.
Woven sew in labels can easily be applied to an item by either putting a small stitch in each corner, by stitching down the left and right hand sides, or by stitching all the way around the label, either by hand or using a sewing machine.
A personalized label is a way to ensure that special items will always be identified with the creator in the future!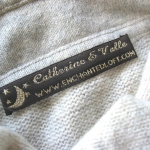 FOR PERSONAL CLOTHING:
Sew in labels which are personalized with a name (and perhaps room number or telephone number) are ideal for labeling valuable clothes as it helps mislaid items to be returned to their owner.
Sew in labels can be stitched onto clothing very easily, and can just as easily be removed if necessary.
Sew on labels are very durable and will go through a regular washer and dryer, and also withstand dry cleaning without any effect.
Sewing labels are often the only labeling solution for certain kinds of fabrics such as loose knit sweaters, shawls, etc., fleece items, and other fabrics which have a "fuzzy" or "linty" finish to them.
Custom woven labels are not only useful for the purchaser, but also make a very thoughtful gift for friends and family who make their own handmade creations.
Call our office for advice on choosing from our extensive selection of woven sewing labels, at (866) 695-2235 – we are always delighted to help!