3 Simple Summertime Crafts for Adults
Lucinda Winston
The long summer days are the perfect time to unleash your inner artist. Here are some fun and simple summertime crafts that we'd love to share with you!
Tie-Dye Summer Clothing
Now that the '90s fashion trends are making a huge comeback, tie-dye clothing is once again the epitome of summer attire. This psychedelic print became especially popular during our quarantine period when everyone dove into home projects to take advantage of the extra time on their hands. With quarantine restrictions slowly but surely easing up, we can't think of a better time to show off your summer style. The best part is that tie-dye works on almost all natural fibers, such as cotton and silk, so you can enhance everything from your favorite t-shirt and shorts to your beach towels. 
Crochet Swimsuit Cover-Up
Swimsuit cover-ups are a beach essential! They can provide some much-needed protection from the summer sun or help you feel more comfortable walking through common areas, like the pier or an outdoor beach bar, without fully dressing up. If you're handy with a pair of crochet needles, you can avoid crowded stores and make your own at home!
We recommend using acrylic and cotton blend yarns because they dry quickly and are comfortable for all-day wear. Just like any other garments you own, your swimsuit cover-up wouldn't be complete without a personalized fabric label.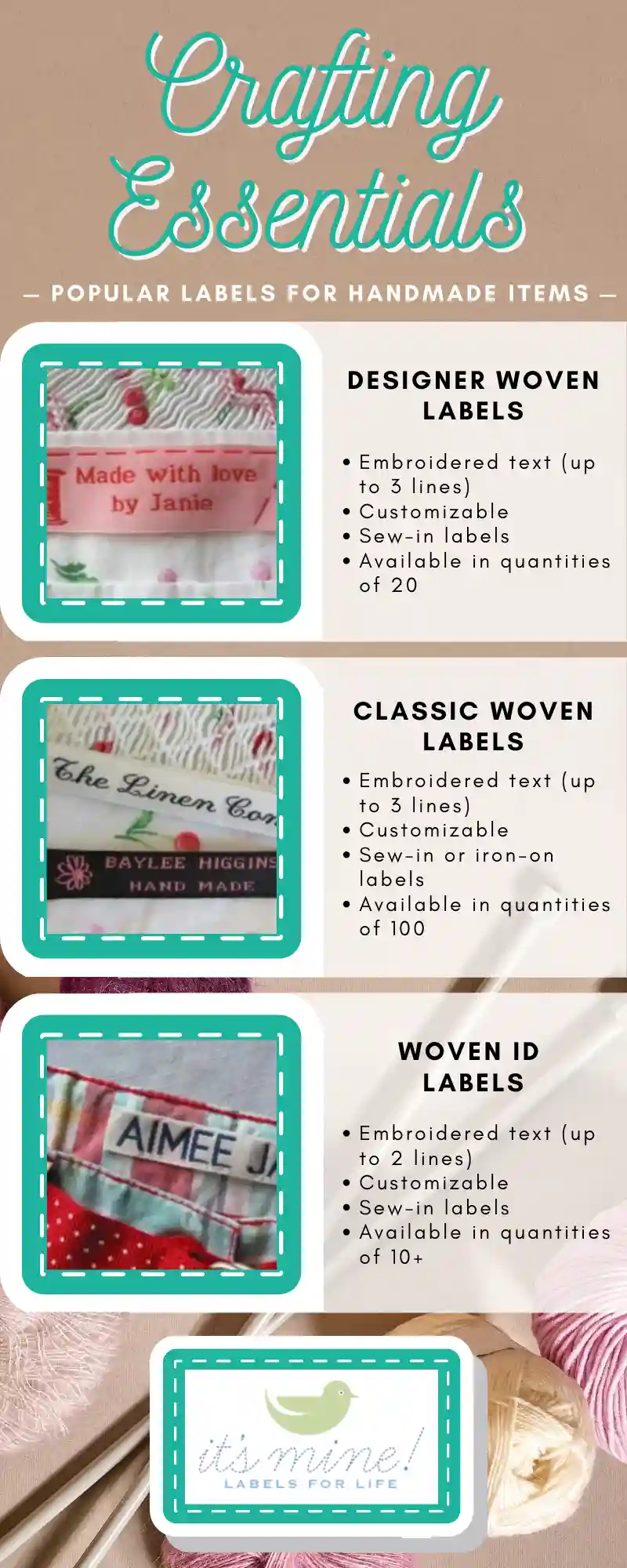 Shop Designer Woven Labels, Classic Woven Labels, and Woven ID Labels today!
Spool Monogram
Here's a fun and simple decoration that's perfect for craft lovers everywhere: a spool monogram! The only materials you'll need to create this piece of decor are:
Large cardboard sheet

Hot glue gun

Colorful arrangement of spools

Extra: paint
First, cut out your cardboard sheet into the shape of your chosen initial(s) and, if you wish, paint it in your favorite color. Then, hot glue the spool ends to the cardboard surface until the whole initial is covered in spools. Ta-da! Your craft is complete. Just wait for it to dry, and you can hang it in your study or gift it to a friend. 
Don't forget to put your unique mark on your summer crafts, whatever they may be, just like every other great artist before you. It's Mine! Labels has a wonderful selection of labels for crafters to choose from. Order online today!